Jíbaro
Miguel Zenón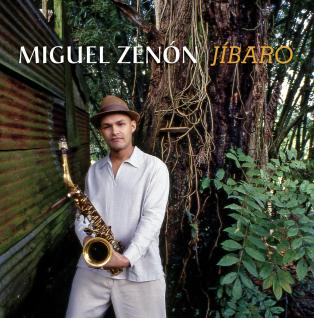 The jazz world got to know Miguel Zenón quite well in 2004. The young alto saxophonist/composer expanded his already impressive sideman résumé with featured roles in the SF Jazz Collective and Charlie Haden's Liberation Music Orchestra. He also captivated numerous listeners with his heralded Marsalis Music debut, Ceremonial. Now, with the same supporting cast of pianist Luis Perdomo, bassist Hans Glawischnig and drummer Antonio Sánchez, Zenón makes his most deeply rooted yet visionary statement to date on Jíbaro.
The ten compositions on the new disc explore the rural music of Zenón's native Puerto Rico, a music that is frequently overlooked by those more attuned to urban sounds. "Most people think of Puerto Rican music as bomba and plena, which came from the African Diaspora," he explains. "Jíbaro music is very different. It comes more from the Spanish side; there is less call and response, less percussion, and greater use of stringed instruments, especially the cuatro [a small four-stringed guitar]. It was developed in the rural areas of the island, and in fact the term Jĭbaro is also used to refer to country people. These were the plantation workers, people with little education and little money; yet they developed this music, which has many variations."
Because of its rural and lower-class origins, even many Puerto Ricans are unfamiliar with the complexities of Jíbaro music. "It has become very common," Zenón reports, "especially at Christmas, when it is all that you hear on the radio. So all Puerto Ricans have been exposed to it, even though we don't all know about it. I never played it in my youth, for instance, because the traditional instrumentation is very strict. Strings carry Jíbaro, and it is very rare to hear it played with a horn. A trumpet occasionally, but never a saxophone."
Structural elements also contribute to the uniqueness of the style, as Zenón quickly learned. "What really got to me, once I began to look into the music, was the unique sense of organization and the form, in terms of both the vocals in traditional Jíbaro music and the rhyme schemes. Decima, or `tenth' in Spanish, refers to a verse form containing ten lines that the music adheres to very strictly. It was only after I became familiar with the rules that I started to hear how I could apply them to my own ideas in a jazz context."
With the support of a grant from the New York State Council on the Arts' Individual Artists Program, Zenón created ten compositions that both honor and expand upon the tradition. "The melodies and other elements are not just made up," he emphasizes. "They are taken from the original stylistic sources. The piece `Llanera,' for example, is taken from the llanera style of Jíbaro. I didn't want the music to sound traditional, but I wanted it to be grounded in tradition. The key was to understand the starting points."
The members of Zenón's quartet rose to the challenge of Jíbaro with brilliant performances. "This is more difficult music than the music on Ceremonial, which we had been playing extensively on tour before we recorded. In this case, even though part of the grant involved playing all of the music in a New York performance, I knew that there would not be as many opportunities to play all of it. And, like all of the music I write, the compositions don't include sections designed specifically for improvisation. I write something because I hear it; then I have to work on playing it creatively, the same way everyone else in the band does. Given my tendency to sometimes write music that is too difficult to play, I was sensitive to bringing the music to the point where it was difficult, but not impossible. I also wanted this music to sound like a logical evolution of what we had done before.
"With all of that in mind, the guys in the band really played incredibly. Everyone was so relaxed and prepared; and when the hardest songs went down in a single take, I relaxed, too. It was a nice surprise how smoothly things went."
Zenón emphasizes that the ten sections of Jíbaro do not comprise a suite. "To me, that term describes a specific approach, with common themes linking the parts. All of the parts are connected, in ways that are obvious to me; but Jíbaro is really a collage of different pieces revolving around the same cultural theme, with each piece based on a different part of the culture." It is also among the most original, lyrical and passionate statements you will hear this year, from a young man who is coming to be acknowledged as one of his generation's most profound jazz musicians.