Branford Marsalis and Joey Calderazzo Duo / Songs of Mirth and Melancholy - World Premiere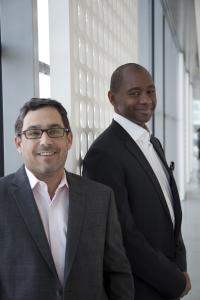 Tickets are now on sale for the WORLD PREMIERE of Branford Maralis & Joey Calderazzo's duo project, Songs of Mirth and Melancholy [1], at the 2011 TD Toronto Jazz Festival. The performance takes place at The Royal Conservatory's Koerner Hall in Toronto, Ontario on June 29. For more information and to purchase your tickets today, please visit the jazz festival's website! [2] We hope to see you there.

Born of an evolving love of music and set in the deep focus of serious listening and learning, Songs of Mirth and Melancholy [1], is full of virtuosity and joy, touching the listener with its expressiveness, melody, emotion; those elements of music that transcend genre and period and speak to us of inspiration and beauty. Comprised primarily of original compositions from each musician, a Wayne Shorter tune paying tribute to that great man and a nod to Brahms, the duo presented here provides the listener with a glimpse into their ever deepening musical journey.

The album is being released on June 7, 2011.

Links:
[1] http://marsalismusic.com/releases/songs-mirth-melancholy
[2] http://torontojazz.com/concert/branford-marsalis-joey-calderazzo-songs-mirth-melancholy-world-premiere
[3] https://marsalismusic.com/sites/default/files/blog/images/bm_jc_2011_press01_stephen_sheffield.jpg
[4] https://marsalismusic.com/branford-marsalis
[5] https://marsalismusic.com/joey-calderazzo
[6] https://marsalismusic.com/releases/songs-mirth-melancholy
[7] https://marsalismusic.com/category/news-posts/announcements
[8] https://marsalismusic.com/category/tags/branford-marsalis
[9] https://marsalismusic.com/category/tags/duo
[10] https://marsalismusic.com/category/tags/joey-calderazzo
[11] https://marsalismusic.com/category/tags/koerner-hall
[12] https://marsalismusic.com/category/tags/royal-conservatory
[13] https://marsalismusic.com/category/tags/songs-mirth-and-melancholy
[14] https://marsalismusic.com/category/tags/toronto-jazz-festival