Ellis Marsalis Center for Music opens in Musicians' Village
Thursday, August 25, 2011
By Keith Spera
The Times-Picayune

On Wednesday afternoon, Harry Connick Jr. and Branford Marsalis kicked the proverbial tires at the Ellis Marsalis Center for Music, the new, multimillion-dollar arts, educational and community center in the upper 9th Ward's Musicians' Village.


They jokingly checked under classroom desks for gum. They strode the dance studio's wood floor. They demonstrated the 1.5-millisecond echo in the 150-capacity, acoustically engineered performance hall.

Had such a facility existed when he was a boy, Connick marveled, "I would have been here every day."

The Ellis Marsalis Center for Music, named for Branford's father, the storied jazz pianist and educator, officially opens today with a private celebration.

Gov. Bobby Jindal and Mayor Mitch Landrieu are expected to speak. Connick, the senior Marsalis, and Branford and several of his siblings are slated to perform.
But the center won't fully realize its potential until fall, when students from the Musicians' Village and beyond populate after-school programs and classes designed to perpetuate New Orleans music and culture while providing professional and personal development.

Connick and Branford Marsalis, along with their manager, Ann Marie Wilkins, spearheaded the years-long effort to fund and build the Ellis Marsalis Center in conjunction with New Orleans Area Habitat for Humanity.

As they introduced journalists to the facility Wednesday, they seemed just as eager to use it as show it off.

"It's unbelievable to us that it's finally here," Connick said. "We're very, very excited."

Were it not for Hurricane Katrina, there would be no Ellis Marsalis Center for Music.

"I was guilty of the same thing our city has been guilty of for 100 years: Resting on our traditions and thinking everything is going to keep on going status quo," Connick said. "No one thought there would be a storm that would put the city under water. No one thought that the musical traditions would ever be in jeopardy.

"The storm really opened up a lot of dialogue."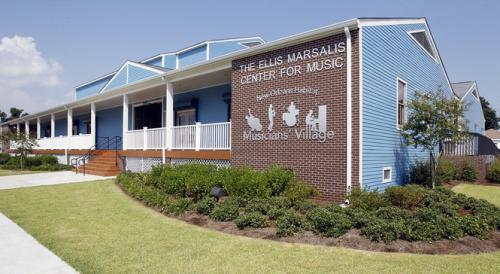 In the storm's wake, housing was a more pressing concern. Connick and Marsalis partnered with New Orleans Area Habitat for Humanity to develop the Musicians' Village for musicians and others. From the outset, Connick said, the vision included a performing arts/community center.

The 72 single-family homes in the Village were built by thousands of volunteers. Habitat financed construction with donations and low-interest loans to the homeowners.
The Ellis Marsalis Center, however, was far too complicated to be built by volunteers. Habitat established a nonprofit support organization to administer the project and its financing separately from the rest of the village.

Construction costs topped $7.4 million. "We didn't skimp on anything," Connick said, echoing Wilkins. "Everything is first-class."

Versatility was built in. The performance hall is wired for recording and streaming online. With its retractable screen, the hall can be used as a movie sound stage. Branford, for one, says he intends to record albums there.

The facility includes a computer lab, a small music library and rehearsal rooms. The overall design is meant to enhance a sense of community and musical dialogue.

"It's here in the Village for a purpose," said Jim Pate, the executive director of New Orleans Area Habitat for Humanity.

A long porch outside classrooms faces the porches of homes across Bartholomew Street. Seats in the performance hall are not fixed, to allow for multiple configurations and uses.
Doors open to a central courtyard.

Toddler Park, opposite the center, is outfitted with sound-producing structures and a walkway inlaid with piano keys and notes from "When the Saints Go Marching In."
"Mom can go sit with the 3-year-old in the Toddler Park while older brother is inside the center taking lessons," Pate said.

The center was funded via Louisiana's new market and live performance tax credits, and private donations.

The Dave Matthews Band, which recorded its most recent studio album in New Orleans, ponied up a $1.5 million "challenge grant" — the band matched donations from fans up to that amount. In gratitude, the center's "hangout lounge," envisioned as a gathering place for area musicians, is named for Matthews.

According to Connick, Ellis Marsalis was the obvious and unanimous choice as the center's namesake. The senior Marsalis has spent decades in music education, including long tenures at the New Orleans Center for Creative Arts — where he taught a teenage Connick — and the University of New Orleans.

Branford sees the honor as "a metaphor for all the unknown teachers who don't get any credit, who teach for the love of it, and a love of the students."
Ellis is heavily involved in developing the center's curriculum, and is expected to be on site most days.

Initially, the center will serve grade school and high school students drawn mostly from the Musicians' Village, the upper 9th Ward, and two affiliated schools, Mays Prep and the Amachi Charter School.

Eventually, classes will include music performance as well as audio and lighting engineering and Mardi Gras Indian beading. A handful of adult classes and private lessons will be offered.

The only cost to students is insurance on their instruments, which the center supplies.
Building such a facility in an economically depressed neighborhood represents an invaluable opportunity for residents, says Michele Jean-Pierre, the Ellis Marsalis Center's executive director.

"Access is sometimes an issue, but children can walk here," she said. "I see this as a way to open doors to college scholarships. If you want to, music can take you to college and around the world."

She views the center's mission as an extension of her previous work in public health.
"Adolescents in New Orleans need structured after-school activities," Jean-Pierre said. "And music is so much a part of the fiber of this culture, and is something kids love. Music instruction is not as easily accessible post-Katrina as it was before. Art and music are the usually the first things cut."

The National Endowment for the Arts contributed some money toward the costs of the center's programming and its full-time staff of four, but fundraising is ongoing.
Connick wrote the song "A Lot Like Me" to promote two new, New Orleans-themed dolls in the popular American Girl series; his 13-year-old daughter, Kate, sings it. Proceeds from the recording are earmarked for the Ellis Marsalis Center.

Connick, Branford Marsalis and Wilkins are on the board of the nonprofit that oversees the center. Though Connick lives in New York and Marsalis is a North Carolina resident, both intend to utilize the center when in town, and champion it wherever they travel.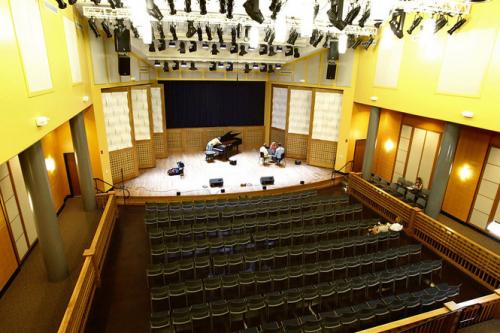 "There's a lot of people doing things all over the world, and it's all great," Connick said. "But we're committed to our city. We're focused entirely on this. This is a lifetime deal."
Already, the Ellis Marsalis Center's integration of architecture, infrastructure and the community has won recognition from the National Building Museum in Washington, D.C.
But Connick and Marsalis won't quantify the center's future success by awards or numbers.

The true measure, they say, is more intangible.

Marsalis recalled meeting a local barber who, as a young man, aspired to study classical music. However, he had no access to the music.

The center, Marsalis said, is a "way to get to it."

Keith Spera can be reached at kspera [at] timespicayune [dot] com" data-scaytid="13">kspera [at] timespicayune [dot] com or 504.826.3470. Read more music news at nola.com/music. Follow him at twitter.com/KeithSperaTP.
center1.jpg
center2.jpg